Find out why and how to navigate a report that is missing the baseline
Missing Baseline:
*Baseline is calculated as days 31-120 divided by 3*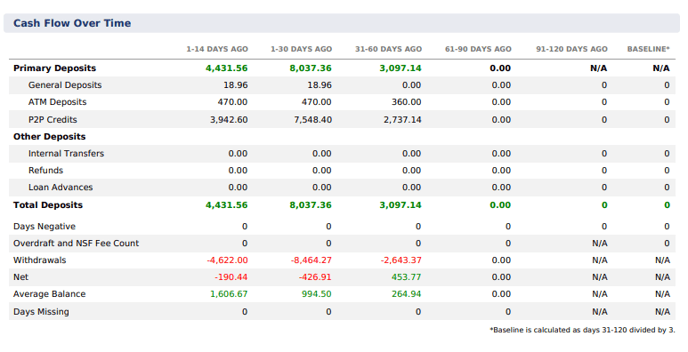 If a TurboPass report did not generate a Baseline in the Cash Flow Over Time section of the report, make sure to check the top of the report for the amount of days the financial institution provided as seen below.

The Baseline is generated when an account has 112-120+ days of transactions available on the account.
In the case of a report bringing back only 90 days, the issue lies in two places; The financial institution does not allow 90+ days of transactions to be shared with any third party company OR there is specific settings not allowing 90+ days to be shared.
First, advise the customer to navigate to their account settings and look for settings related to Privacy Preferences, Security Settings, or Privacy Setting sections of their online banking platform. By accessing these settings, the customer can review and modify their privacy preferences to allow third party access to the necessary account information. This could also be related to the "Paperless Statements" section of the account. If only 90 days comes back, make sure the customer has "Paperless Statements" ON. Once they enable the required settings, send the invitation to the customer and try again.
Unfortunately, there are some financial institutions that DO NOT allow 90+ of transactions to be shared with third parties. Please refer to the bottom of this article for these known institutions.
If the report brings back between 95-110 days, this indicates there is not enough days available on the account to generate the Baseline. We suggest you wait the remaining days to get to ATLEAST 112 days of transactions and run the report again.
If you have tried the suggested work-arounds with no success, please contact
Ethan Jarman
ethan@turbopassusa.com
(737)256-7990
---
Since every bank has unique settings, we are unable to provide specific solutions for each individual bank.
As we continue to address this issue and work with specific bank cases, we will include them below:
TD Bank Report: (Only 90 days)
Known financial institutions who restrict sharing 90+ days of transactions:
Capital One
Navy Federal Credit Union
PNC Bank (Working on fix)