See current fixes and issues to the TurboPass DealerCenter Integration
TurboPass Report not returning in DealerCenter
All dealerships that have access to their TurboPass dashboard can log in and view all TurboPass reports that were not received in DealerCenter. If a dealership is not signed up with TurboPass directly, they do not have access to the TurboPass dashboard to retrieve the report.
In some cases, a customer will fully link their account and a TurboPass report will be generated in the TurboPass application but will not return within DealerCenter.
If the report does appear as a green check mark next to the TurboPass Report button, look inside of the Report Section of DealerCenter as seen below.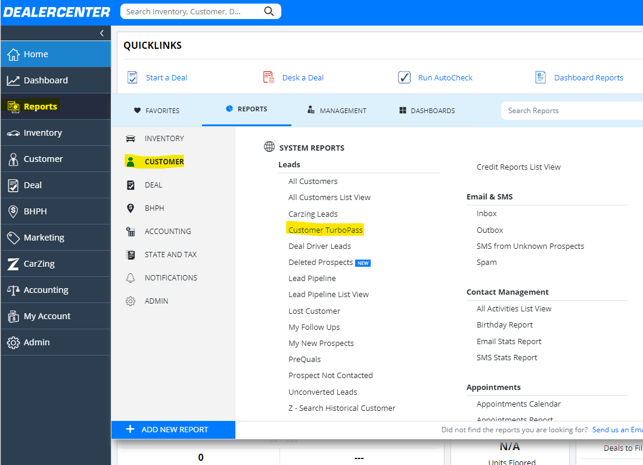 If the report is not in the "Customer TurboPass" section, our support teams current work-around involves a secure link with access to the PDF of the customers report that did not return.
If you think this could be the case for your customer, please reach out to
I need to send another invite to my customer
TurboPass Integration through DealerCenter Rehash System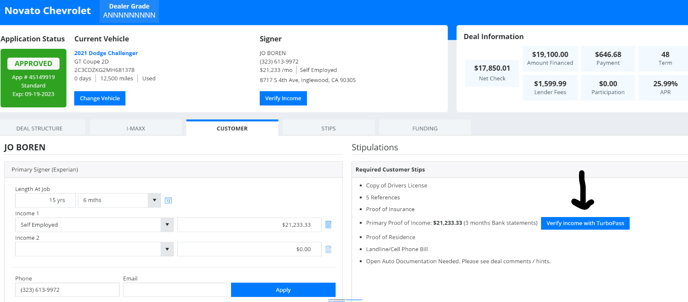 The Rehash system into DealerCenter from another DMS like DealerTrack, RouteOne or Frazier, has the TurboPass button located in the deal, under the tab 'Customer'. Under Stipulations, the 'Verify Income with TurboPass' button will send the TurboPass link to the customer. Keep in mind that this button will only show up if your TurboPass account is active (On a TurboPass plan directly OR DC Pay per use plan)
We strongly suggest all dealerships using TurboPass ONLY through DealerCenter, sign up with us directly for maximum utilization and access to all of our features.
These features include:
Unlimited invitations
Unlimited users
Paystub report
Backup Banking report (Currently not accepted by Westlake)
Insurance report
Utility report
Rebuild report feature
Complete in this browser feature
Our Intro plan includes 15 reports for only $129 per month